Constable John Proctor: Trial begins of murder accused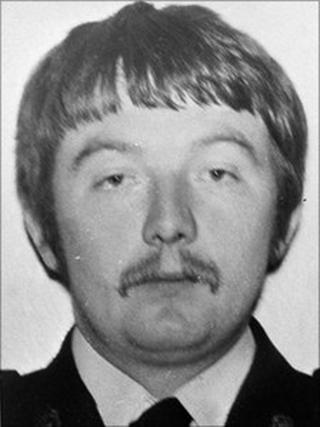 The trial is under way of a man charged with the murder of a police officer after visiting his new-born son in a County Londonderry hospital.
RUC Reserve Constable John Proctor, 25, was murdered by the IRA in the car park of Magherafelt Hospital on 14 September 1981.
Seamus Martin Kearney, 57, of Gorteade Road, Maghera, is charged with murder and possessing an Armalite AR15 rifle.
The defendant denies the charges.
The prosecution in the non-jury case said the principal witnesses in the case will relate to forensic matters.
Belfast Crown Court was told that Mr Proctor had just left his wife, Kathleen, and that she was saying her goodbyes from the hospital window when she heard shooting.
The court was told there were two witnesses in the car park at the time of the murder.
One saw a man with a gun, "crouched as if to shoot".
Another man said he heard a "crack crack" sound after Mr Proctor got into his car.
The court was told that a short time before the shooting, a man entered a house near Draperstown with a handgun and said: "We are the PIRA, we want your car".
A white Ford Escort was taken.
A witness saw a white Ford Escort driving very fast after the shooting.
The court was told this was the same car that had been stolen.
Judge David McFarland was told that the RUC seized two cigarette butts, found near 13 spent cartridge cases at the murder scene.
The butts were examined as part of an Historical Enquiry Review.
A DNA profile from one of the butts was found to match that of the defendant.
The court was told that in 1986, a rifle recovered from the scene of a shooting between Toomebridge and Castledawson, was examined and was found to be the same gun used in the murder of Mr Proctor.
In 2010, the rifle was examined again and it was found the cartridges used in Mr Proctor's murder and three other incidents had been fired from the same weapon.
One of those incidents was an attack on a UDR patrol, travelling between Swatragh and Maghera in November 1982.
The court was told the defendant had been convicted of attempted murder and the possession of ammunition in relation to the Swatragh attack.
The prosecution said what happened in Swatragh was a "terrorist attack" and the same weapon used to kill Mr Proctor was used there.
The court was told this was significant circumstantial evidence and the DNA link to the cigarette butt placed the defendant at the scene of the crime.
The trial has so far heard from two witnesses, one a then member of the RUC photography branch and the other a former member of the RUC mapping branch.
The trial continues.