John Proctor's wife said murdered officer 'in good form'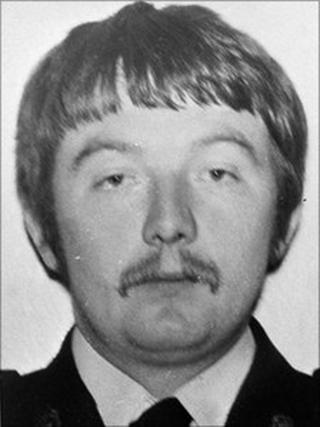 The wife of a reserve police officer murdered by the IRA said her husband was in "his usual good form" the day he was killed.
A statement made by Kathleen Proctor the day after RUC Reserve Constable John Proctor was killed in the car park of a hospital on 14 September 1981 was read to Belfast Crown Court.
Seamus Martin Kearney, 57, of Gorteade Road, Maghera, is charged with murder and possessing an Armalite AR15 rifle.
He denies the charges.
The court heard that Mr Proctor stayed in Magherafelt hospital, in County Londonderry, until 20:45 BST.
When he left, she rushed to back up to the corridor where there was an open window.
She saw her husband "dandering along and smoking a cigarette".
She said she normally went to the window after his visits.
Mrs Proctor said "I love you" and wished him goodnight and noticed a white Ford Escort.
The court then heard that he went out of sight to his car and she waited for him to pass.
Mrs Proctor then said she heard the sound of shooting. She ran into the corridor and into a nurses' room that looked out into the car park.
She saw an ambulance and the figure of man and said she recognised her husband from his clothing.
She went to casualty where she was told her husband was critically ill. He later died.
The court also heard statements from witnesses who were in the car park, RUC officers who were there that night and a former RUC scenes of crime officer.
The non-jury trial is expected to last one week.