Strabane gets 60 jobs with new nightclub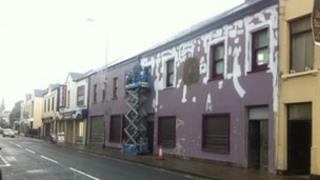 Sixty new jobs are to be created in Strabane, County Tyrone, with the opening of a new "super venue" bar and nightclub.
Ruby's bar and nightclub is expected to open at the end of the month with around 25 full-time and 35 part-time jobs.
It will open at the former Katy Daly's nightclub site in the town.
Strabane's Chamber of Commerce said: "This is good news for an area that has unemployment issues."
The jobs boost comes after figures released by the Department of Enterprise, Trade and Investment (DETI) on Wednesday suggested the town was the only place in Northern Ireland that saw a rise in unemployment in the last quarter.
DETI said the highest unemployment rates in October 2013 were in Derry (8.6%), Strabane (8.0%), Belfast (7.0%) and Limavady (6.6%).
The only area to show an increase in levels over the year to October 2013 was Strabane at 6.1%.
'Positive news'
Brendan McCusker, group manager for 1 OAK Leisure, which owns Ruby's, said Strabane was the perfect opportunity for investment.
"We thought we could do something similar in Strabane to what we do in Cookstown with a super venue," said Mr McCusker.
"The area has got an image over the years with unemployment, but still it is a great catchment area. There is a demand and a need for this in the area.
"This should breathe some sort of life into Strabane and we know Katy Daly's was successful. It's about building energy and life in the area."
Declan Hughes, acting president of Strabane's Chamber of Commerce, said: "This is positive news.
"A small district like Strabane would have been very reliant on construction and agriculture, and both of those areas have been badly hit.
"We have not met with the enterprise minister in the past year. It's not going to be easy. A magic wand just can't be waved when it comes to unemployment.
"We have limited resources and are unpaid in the chamber so it is very easy for people to knock the work that the chamber is putting in."