Carál Ní Chuilín outlines Derry City of Culture legacy plans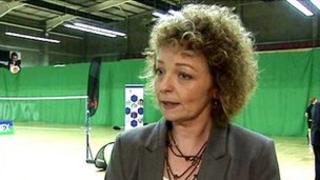 Culture Minister Carál Ní Chuilín has outlined a three-year legacy plan for Londonderry when its year as UK City of Culture comes to an end.
Ms Ní Chuilín said her department had "learnt a lot" from the city's year as UK City of Culture.
More than 600,000 people have so far visited the city to watch a wide range of events.
The minister said she had approved over £2m to get legacy projects "up and running".
"As we move forward into 2014, I want to widen the focus out from Derry to Strabane, Limavady and Coleraine including co-operation with Donegal," she said.
"With the new councils being established in 2015, it makes sense that all of the north west region benefits."
Ms Ní Chuilín said she would set up a "company limited by guarantee" to deliver City of Culture legacy programmes and activities.
"I will also set up a Department of Culture, Arts and Leisure (DCAL) north west office to help the new body become established," she said.
"I will fund neighbourhood renewal areas to support the delivery of cultural strategies.
"I also want a feasibility study to be undertaken to consider venues for cultural hubs across the region.
"I have approved funding for the purchase of a mobile marquee which will enable deprived communities to host events such as the hugely popular tea dances."
Transformation
The minister said in mapping out the way forward beyond 2013, the focus would not be so much on the big ticket events but on local communities learning from this year and flourishing through culture.
"Derry is a city transformed; a community inspired and confident and a region embracing the creative industries and wider social innovation, taking its lead from the city," she said.
Derry City Council has also been looking ahead on how to mark the end of the city's tenure as City of Culture.
"We've had a year to develop our legacy plan," said Sharon O'Connor, chief executive of Derry City Council.
"We have a legacy plan in place, we would like to see a continued high-level programme in terms of high quality international reach type events and we'd also like to see a continuation of the very excellent level community level work that's been done."
The government set up the UK City of Culture competition after the success of Liverpool's year as European Capital of Culture in 2008.
Derry has managed to bring internationally recognised events since its year as UK City of Culture began in January 2013.
Tens of thousands of people attended BBC Radio One's Big Weekend, while hundreds of thousands travelled to the city for the Irish music festival, the all-Ireland fleadh. It was the first time the event had ever been hosted north of the Irish border.
The Turner Prize, which is taking place in the city, also marked a first. The Turner had never been held outside England before.
Many smaller events have also been held.
Four cities were in the running to hold the title in 2017 - Leicester, Hull, Swansea Bay and Dundee.
It was announced on Wednesday that Hull will be the UK's next city of culture in 2017.
Ms O'Connor said the council was "thrilled" that Hull had been chosen.
"We're very disappointed for all the other bidding cities, we got to know them all along the way and we're just very excited on behalf of Hull and I'm sure they're very deserving winners and we'll do everything we can to help and assist them on their journey," she said.
The UK's Culture Secretary revealed on Wednesday that she had been too busy to visit Derry so far during its year as UK City of Culture.