Mark William McPhillips jailed over £800k drugs find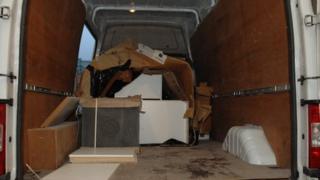 A 34-year-old man from Londonderry, who was caught transporting herbal cannabis with a street value of £800,000 last year, has been jailed for seven years.
Mark William McPhillips pleaded guilty to nine charges linked to the discovery of 40kg of herbal cannabis found inside kitchen cupboards in the rear of a rented van.
The van was stopped and searched by police officers at Glengalliagh Road in Derry on 14 May 2012.
Police have welcomed the jail term.
McPhillips from Elmvale in the Culmore area of Derry, who had 32 previous convictions, nine of them for drug offences, also admitted possessing the class A drug MDMA, which was found inside the engine compartment of his BMW X5 jeep.
He further pleaded guilty to possessing criminal property by putting down deposits of £14,000 and £10,000 to buy houses in College Glen and Bloomfield Park.
'Leader of a crime group'
He additionally admitted converting criminal property by paying 25,000 euros (£21,000) for the BMW X5 and guilty to transferring unexplained lodgements totalling £76,224 into his bank account.
McPhillips committed all of the offences between June 2006 and June 2012.
Detective Superintendent Andrea McMullan, from the Organised Crime Branch, said: "This was a proactive operation against an organised crime group involved in the importation and distribution of large quantities of controlled drugs into Northern Ireland and the Republic from Holland.
"While it is unusual for the leader of a crime group to personally move such a quantity of drugs, we believe Mark McPhillips took a chance on this occasion and has paid the price.
"Following an extensive financial investigation, we believe McPhillips has benefitted substantially from the supply of controlled drugs. These proceeds of crime will now be the subject of confiscation proceedings.
"We view this as a very significant detection which was the result of good police work."
The judge told Londonderry Crown Court that McPhillips had engaged in the drugs and money laundering offences and despite his admissions, "he was still withholding information from the police".
He said the police found a sender's address based in Amsterdam attached to the drugs and a delivery address in French Park, County Roscommon.
The court heard that McPhillips picked up the drugs from a contact near Sligo before driving the consignment into Northern Ireland.
'Red-handed'
The judge said McPhillips told the police he had agreed to collect the drugs because he was £40,000 in debt to other people, whom he refused to name.
The judge described the father of two as being heavily involved in the drugs trade in Northern Ireland and he dismissed McPhillips' assertion that his role was that of a courier.
He said McPhillips had failed to account for his visits to Holland and Spain prior to his arrest and he also failed to explain his mobile phone traffic to and from both countries.
He said McPhillips was able to lodge over £76,000 into his bank account over a six-year period starting in 2006, despite not having paid income tax since 2006.
He said McPhillips was "caught red-handed".
As well as jailing McPhillips for seven years, the judge said for the five years after his prison release, he would have to notify the police of all his financial dealings.
Confiscation proceedings in relation to McPhillips' properties are to start in January.