How All-Ireland Fleadh hit high note at UK City of Culture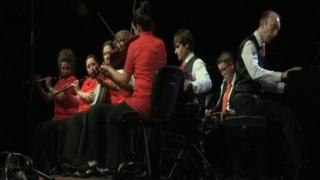 As Londonderry's year as UK City of Culture draws closer to the end, it is clear that one of the highlights was the staging of the All-Ireland Fleadh.
Every year hundreds of thousands of people gather for the festival of Irish traditional music, and for one week in August, Derry reverberated to the sound of fiddles, tin whistles and banjos.
Organisers estimate that more than 400,000 people were at the fleadh over the course of the week, while 20,000 musicians were performing, whether on the big stages or in the streets and the city's walls.
Although the event was first staged in 1951, this was the first time it had come to Northern Ireland.
While the casual observer might have got swept up in the revelry, there were higher stakes involved for many of the musicians who had spent months and years fixated on winning a coveted all-Ireland title.
It has been described as the Olympics of traditional music, and a new documentary goes behind the scenes to capture the pressure and tension at play when all those hours of practice come down to one nerve-wracking performance.
The programme charts the progress of a number of performers as they compete against hundreds of other hopefuls - first at county level, then at provincial level, in the hope of winning through to the main event.
One of them is accordion player Justin Quinn, who likens the experience to "running down a hill faster than you feel comfortable".
Mr Quinn grew up in Leeds but his parents are from Pomeroy in County Tyrone, and Irish traditional music played a big part in his upbringing. While he won an all-Ireland title at the age of 14, he gave up the instrument when he went to university and did not return to it for another 20 years.
"The competition itself is awful - having everything relying on five minutes, whether you forget the tune halfway through," he says.
That pressure is echoed by accordion player Christopher Maguire, who says that by the time musicians have gone through provincial heats to reach the fleadh, everyone is of a high standard.
"You're in this massive room, and everyone's watching you they're like policemen for music, and you just have to perform your best," he says.
"You have to know the song, you have to put feeling into the tune and imagine you're singing it, you're actually in the accordion."
While the world of traditional music is a close-knit community, friendships are put aside for a few hours while musicians do battle in front of the adjudicators.
The programme's producer and director, Sean McGuire, says the fleadh is about more than winning medals.
"While there's a competitive spirit what I found in this world of music was friendship, camaraderie - and a lot of joy," he says.
Fleadh was first shown on BBC One Northern Ireland on 2 December 2013. It will be available to watch on iPlayer until 9 Dec 2013.