John Proctor murder: Seamus Kearney sentenced to 20 years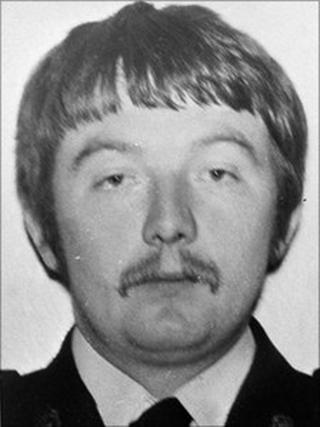 A man has been sentenced to at least 20 years for the "appalling" killing of a policeman in Northern Ireland in 1981.
John Proctor, 25, was murdered by the IRA in the grounds of Magherafelt hospital, County Londonderry, after visiting his newborn son.
Seamus Kearney, 57, of Gorteade Road, Maghera, had denied murder and possessing an Armalite AR15 rifle.
Under the terms of the Good Friday Agreement, Kearney will serve about two years.
The killing happened in September 1981, and after a review by the Historical Enquiries Team, Kearney was charged with murder.
Judge David McFarland told a court in Belfast on Friday: "This has to be one of the most appalling murders committed during that period in our history that has become known as the Troubles.
"The passage of 30 years has in no way diminished the brutality of this murder.
"That a man can be targeted when he is attending a hospital to visit his wife and newly born son continues to appal all right-minded members of society."
The judge said that Mr Proctor's son, John, bears the name of his father "no doubt with pride, but it is a constant reminder for him and the rest of the family of the cruel nature of his father's death".
Last month, Kearney was convicted of the policeman's murder.
A judge told him he was "either the gunman, the driver of the Ford Escort RS200 or was an occupant of the car being present to provide support for the killing".
Kearney had denied the murder of Mr Proctor and possessing the Armalite AR15 assault rifle, used to shoot him dead minutes after visiting his wife June and newborn son at the Magherafelt Hospital.
Kearney had been jailed for attempting to murder UDR soldiers in December 1984.