Nelson Mandela: County Tyrone woman recalls nursing former president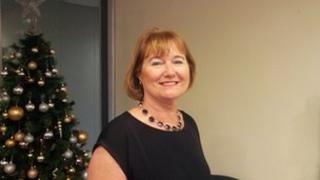 In 1976, Nelson Mandela told a County Tyrone nurse that he would go on a low calorie diet, but not until he had tested an Ulster fry.
Cathy Nicholas, originally from Gortin, trained as an intensive care nurse in Belfast before caring for Mr Mandela in a private nursing home near Robben Island, where he was then imprisoned.
Mr Mandela was arrested and tried for leaving the country illegally. In 1963, while in prison, he was charged with sabotage. He and seven others were sentenced to life in 1964.
"He got sick in the prison and we were there to care for him for £50 a night. He developed a cough that didn't improve," said Mrs Nicholas.
"He was a very strong man and fought what became tuberculosis very well. He was very fit and carried out light exercise daily.
"I was in Lanzarote when I heard about his death and it's one of the those moments I'll always remember. He does mention how he was treated in the nursing home in his book and I'm extremely proud."
'Conflict nursing'
Cathy did her general training in the Royal Victoria Hospital in Belfast from 1969 to 1972 and worked in intensive care during the height of the Troubles in Northern Ireland.
At 23 she then carried out midwifery training thinking there would be more travelling opportunities. Cathy later got a job in the intensive care unit in the Florence Nightingale Hospital in Johannesburg.
"The cultural split in Northern Ireland prepared me well for work out in Johannesburg. I was always told never to talk too much about Nelson Mandela in work because you didn't know who you were talking to.
"My sixth sense always told me that I was checked out before I could work with Nelson Mandela. Conflict nursing was probably something they thought I was familiar with."
'Offer kindness'
Money was getting scarce in Johannesburg for Cathy so she later went to find work in a private nursing home. That is where she met Nelson Mandela.
"He had great posture and was very charming with it. I looked after him for three nights and the guards were there all the time.
"I told him that I was from Ireland and he told me what he knew about here.
"I felt it was a great opportunity to offer kindness. It is only recently that I have spoken out about it because of the confidentiality element with patients.
"I remember that the nurses were all white and the cleaners were all black. The cleaners asked a lot about what he was like.
"He wasn't grumpy or upset as a prisoner. He was determined.
"One day he was told to pack his things, that he was going back to prison. That was him gone and I never saw him again."