Fujitsu creates 192 jobs in Londonderry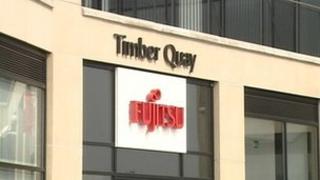 Japanese IT company Fujitsu has announced 192 new jobs in Derry as part of a £12m investment.
The jobs will include posts in administration, finance and human resources.
There will be 177 full-time positions and 15 business apprenticeships. It is anticipated that recruitment will begin in the new year.
The company already has existing premises at Timber Quay in the city.
174 people are already employed at the offices, which opened in 2007.
'Important investment'
The announcement was made at a visit to the Timber Quay offices on Tuesday by Northern Ireland First Minister Peter Robinson, Enterprise Minister Arlene Foster and other stakeholders.
Fujitsu has been in Northern Ireland for 35 years and this is its fourth investment announcement in recent years.
"Already we estimate that 99% of the Northern Ireland population will come into contact with our work," said Greg McDaid, Fujitsu's client managing director in Northern Ireland.
"This important investment announcement confirms Fujitsu's commitment to the Northern Ireland economy and reinforces our position as a leading IT services supplier to the public and private sectors throughout these islands.
"We offer a full range of innovative technology products, solutions and services to drive efficiencies, growth and responsible business practices, creating value for both customers and wider society."
'Positive atmosphere'
First Minister Peter Robinson said: "This is something the area has been crying out for".
"It's the people that already work here that have set the precedence. This investment will attract other companies to the area."
SDLP MP Mark Durkan said: "This is a much-needed jobs boost to the north west economy."
"It has been won in no small part because of the productivity and performance of the existing workforce. They deserve our thanks for earning these new jobs by proving our capacity to serve the business needs of a market leading international company."
Sinn Féin MLA Maeve McLaughlin said the investment will "bolster the already positive atmosphere created by the success of the Year of Culture".
"Martin McGuinness and Peter Robinson have just returned from Japan where among other business leaders they met with Fujitsu's president Masami Yamamoto. I have no doubt that this meeting helped to cement this decision."