Man admits sexually and physically abusing teenage girl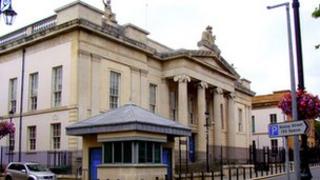 A 43-year-old man has admitted sexually and physically abusing a 15-year-old girl over a three-year period from April 2006.
The defendant, who cannot be named, admitted a total of 19 charges at Londonderry Crown Court, including indecent assault.
The court heard that the girl came from a children's home background.
She left the home aged 15 and moved in with the defendant, in the belief that it would be a loving relationship.
The court heard that the defendant committed acts of gross indecency on her, stubbed out cigarettes on her body and tore her earlobe by ripping off her ear-ring.
He also kicked and punched her and banged her head off the walls in the home in County Derry that they shared.
The court also heard that the abuser attempted to strangle his victim, causing her to black out.
A defence barrister said it was difficult to read the case papers "without feeling outraged".
He said the abuse took place against the background of a lifestyle of drugs and alcohol abuse by both parties and he said the case involved two damaged people.
Judge Philip Babington remanded the defendant in continuing custody. He will be sentenced in January.