St Peters High School to be demolished in the new year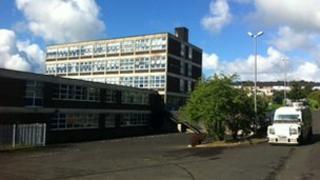 A derelict school in Londonderry is to be demolished in the new year.
The former St Peter's High School, in the Creggan area of the city, has been at the centre of a spate of arson and vandalism attacks.
Sinn Féin councillor Kevin Campbell said he had been given assurances that demolition work would begin after the Christmas holidays.
The Derry Diocese said a contract has been awarded for the demolition of the building.
The school has fallen into disrepair since it closed earlier this year.
Councillor Kevin Campbell said: "It is fantastic news for the community, especially for the residents living near the school.
"It has been a magnet for anti-social behaviour and there have been two major fires on site as well.
"It may take up to 12 weeks before the whole site will be cleared," he added.
A spokesperson for the Derry Diocese said: "There is a particular procedure to go through before a demolition can take place. This is now completed and we expect that work will begin on the site on 6 January 2014."