Derry man beaten and robbed after goodwill gesture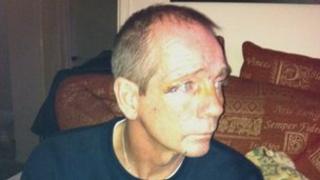 A man has described how he pretended to be dead after he was attacked and robbed by people he had invited into his home.
Eddie O'Hagan said a man and a woman had called to his home at Beechwood Crescent in Londonderry, and asked to come in because it was cold.
However, when he asked them to leave, they beat him and left him lying on the floor where he "played dead".
Police have said that his mobile phone and TV were taken during the incident.
"I invited the two of them in after they said it was cold outside," said Mr O'Hagan.
"We were sitting down talking and drinking a bottle of beer. I later asked them to leave because I was getting tired. They said no, that they were staying.
'I played dead'
"The man stood up and punched me. I kept asking them to leave. I then ran outside to see if my neighbours were in but they weren't.
"I came back in and they were still there. They kicked and punched me and I fell to the ground.
"When I said that they weren't taking the TV they continued to beat me even more. I could hear them say that I was already dead.
"I saw them then with a hammer, which was mine, but I played dead."
Mr O'Hagan was knocked unconscious and has sustained injuries to his nose and head.
"I already take panic attacks and have heart problems. I'm afraid for the first time to be in my home.
"They actually tried to kill me. I have no love in my heart for them."
Police are appealing for information.