Foyle Ferry Service: Decision on future put on hold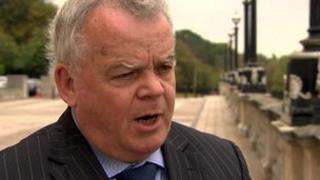 Any decision about the future of the Foyle Ferry service has been put on hold, the SDLP has said.
Politicians from Northern Ireland and the Republic of Ireland met the ferry company operators on Friday.
They were discussing the future of the 12-year-old service between Magilligan in County Londonderry and Greencastle in County Donegal.
East Derry MLA John Dallat said it was vital that governments on both sides of the border jointly funded the service.
The SDLP member, who has campaigned for funding, said: "We need to find a short-term solution to ensure the service resumes in the spring.
"But it is also imperative that ministers in Dail Eireann and the Northern Ireland Assembly recognise the need to jointly fund the future operation of the service to ensure its long-term viability.
"The amount of money needed is miniscule compared to the amount of cash spent on the Strangford Ferry and given the will and commitment it should be possible to convince the directors of the Foyle Ferry Service to continue ferrying cars and passengers across the Foyle for the foreseeable future."
Assistance
Earlier, Mr Dallat said the service had carried two million passengers over 12 years.
"The Strangford ferry service is run directly by the Department of Regional Development and receives financial support in the region of £2m annually," he said.
"The Rathlin ferry service is supported by European money and, while the Foyle Ferry Company received some financial assistance from Donegal County Council and Limavady Borough Council, that apparently has ceased.
"The six directors of the company have received no dividend whatsoever for their investment and that is patently unfair," he said.
In 2009, the Department of Regional Development said it could not fund the ferry because it runs between Northern Ireland and the Republic of Ireland - a separate jurisdiction.