Donegal County Council passes budget and avoids dissolution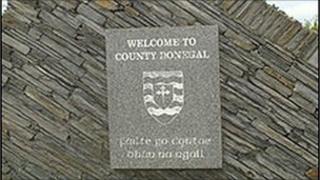 Donegal County Council has been saved from dissolution after it adopted a revised budget.
A deal was reached between Fine Gael and independent councillor John Campbell, who had said earlier he would be voting against the budget.
It took the casting vote of the mayor, Ian McGarvey, to break the deadlock when councillors were tied at 14 votes on either side.
The deal happened on Monday night after 42 hours of talks and 26 adjournments.
Discussions began last month in an effort to strike a deal and pass the budget.
Fianna Fail and Sinn Féin had expressed reservations about several aspects of the proposed budget, including the transfer of assets and responsibility for water services to Irish Water.
Monday's meeting was the fourth time that councillors had met in Lifford to try and pass the budget.
Threat
The deal between eight Fine Gael councillors, five independents and one Labour councillor left Mr McGarvey to exercise his casting vote to save the council.
Fianna Fail councillor Rena Donaghey was not in the chamber for the vote as she had left the meeting earlier in the evening.
The council had faced the threat of members losing their power and a commissioner being appointed by the Irish Minister for the Environment had they failed to reach a decision on the budget by midnight.
Sinn Féin councillor Jack Murray told BBC Radio Foyle that he was disappointed at what happened.
"Throughout the budget negotiations it looked like the budget would be rejected.
"It was shocking and disappointing that at such a late hour, and after so long, that a decision was struck then," he said.
"People are sick to the teeth about what is going on and they wanted to see councillors make a stand."
Proposals
Mr Campbell also told BBC Radio Foyle that there was no U-turn in his decision.
He said: "I voted for a budget that I proposed on Tuesday and that is the budget that was passed. It was another party that changed its mind.
"Fine Gael and the others who had supported the previous budget proposals changed and accepted my proposals.
"I know a lot of community groups that I work with, who will be glad to see that the local councillors are in place and able to make decisions on their funding."
In the proposals that were finally approved, extra resources were proposed for tourism promotion, local roads and the purchase of library books.
Savings will be made on expenditure on travel, civic receptions, conferences abroad, and allowances for the chairman/vice-chairman.