City of Derry airport boss blames airline for bumpy landings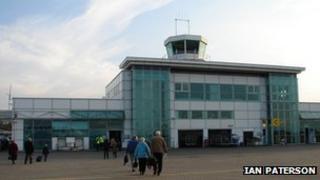 An airport boss has said Irish airline Ryanair may be more to blame for bumpy landings than the runway.
City of Derry Airport Director Damien Tierney made the remark during a Strabane District Council meeting with the Statutory Transition Committee.
The committee was set up to oversee the merger of Strabane District Council with Derry City Council.
Ryanair have said they will not be "commenting upon, or engaging in, rumour or speculation".
Questioned by Sinn Féin's Maolíosa McHugh, Mr Tierney said that rather than the airport being responsible for bumpy landings, "it could in fact be down to Ryanair".
Complaints
"It is an issue we have raised with Ryanair and it seems to be specific to their pilots," said Mr Tierney.
"It seems to be part of their work in getting it (the aircraft) turned around and back in the air again."
City of Derry Airport receives an annual cash injection of about £2m from Derry City Council. That cost will be spread to ratepayers in Strabane when the local authorities amalgamate in 2015.
Mr McHugh said he had received complaints from constituents who opted to fly out of Belfast or Dublin because of the issue.
Mr McHugh said he remained "unconvinced" by the airport chief's explanation.
"Mr Tierney reassured me that it has nothing to do with the length of runway but I'm not convinced. I have no idea what the issue is with landing in Derry but it does seem to happen so abruptly."