Philippa Reynolds: Fatal crash car travelling at 80mph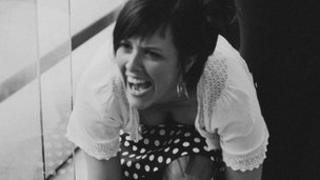 A stolen car involved in a crash in which a policewoman died had been travelling at up to 80mph in a built up area, a court has been told.
Constable Philippa Reynolds, 27, died when the stolen vehicle crashed into a police car in Londonderry's Waterside on 9 February 2013.
The policewoman had been a backseat passenger in the police vehicle.
The sentencing of two men in connection with her death has been adjourned until next month.
Shane Christopher Frane, 26, who is originally from Limerick, has admitted the manslaughter of Constable Reynolds.
He has also admitted causing her death by driving the stolen Landcruiser dangerously, driving without insurance, driving while unfit due to drink and drugs, failing to remain at the scene of the accident and failing to report the accident.
Conor Clarence, 24, and from the Simon Community hostel, also admitted stealing the Landcruiser keys after the burglary of a house at Fountain Hill and also causing criminal damage to another car.
Regret
Clarence further admitted allowing himself to be carried as a passenger in a stolen car.
The prosecution told the judge that CCTV footage showed Frane driving the Landcruiser at up to 80mph in a 30mph built-up area immediately before the fatal crash.
The car had also been driven through two sets of red traffic lights, including the traffic lights at the junction where the crash occurred.
Mr Mooney said it had been Frane's intention to drive to Limavady when he drove through the red lights and crashed into an armoured Vauxhall Vectra police car containing three officers.
After the crash, both Frane and Clarence ran off but they were arrested hours later in the Simon Community hostel.
The prosecution said minutes before the fatal crash Clarence had asked Frane to slow down.
He said both defendants had previous criminal convictions and described Frane's criminal record in the Republic of Ireland as "extensive and significant".
He also said Frane had been released from prison on licence "just four months before he killed Constable Reynolds", and that both defendants had consumed large amounts of alcohol and drugs in the hours leading up to the collision.
Philippa's parents, Mervyn and Dorothy, were in court as well as her sisters Deborah and Nicola.
Condolences
A defence barrister who represents Frane said he had apologised for his actions, which were not intended to cause Constable Reynolds' death.
The defence barrister said Frane had written a letter to the Reynolds family while in prison, but that he would only send the letter to them if they indicated they would accept it.
"Mr Frane is not seeking compassion from the court and I accept that he falls to be sentenced at the highest level," the defence barrister said.
A defence barrister for Clarence said he, too, apologised.
"He has expressed to his lawyers and to his probation officer his extreme and profound regret at the terrible tragedy that occurred on this night.
"That may be a small consolation but he wishes that to be stated in open court."
The judge expressed his condolences to members of the Reynolds family and adjourned sentencing until 4 February.