Bloody Sunday: 1,000 witnesses to be questioned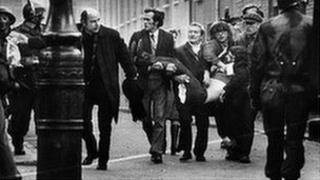 Detectives investigating the events of Bloody Sunday in Derry are to begin questioning more than 1,000 witnesses.
Thirteen people were shot dead by the British Army on Sunday, 30 January 1972 at a civil rights march in the city.
A 14th man died later from his wounds.
In 2010, the Saville Inquiry into Bloody Sunday was heavily critical of the Army, finding that soldiers fired the first shot without issuing a warning.
The report also found that all of those who were killed were unarmed. Some of them were clearly fleeing or going to the assistance of others who were dying,
As part of the police investigation launched in 2012, detectives want to re-interview former soldiers and civilians who gave evidence to the Saville Inquiry or who may have information about the day.
"It is necessary to re-interview witnesses because police are precluded from using Saville testimony in a criminal investigation," a spokesperson for the PSNI said.
Clear investigative process
A series of notices will be placed in local newspapers and other publications to encourage witnesses to come forward again.
Detective Chief Inspector Ian Harrison who is leading the investigation said: "We now have the additional resources in place and a clear investigative process to follow.
"For the investigation to be as comprehensive and effective as possible, police are asking for public support in the form of witnesses who gave evidence to the Saville Inquiry to now make statements to detectives.
"Contact has also been made with former military witnesses."
He said that former soldiers who gave evidence were granted anonymity during Saville, unless their names were already in the public domain.
"That ruling does not automatically carry over to the current police investigation. Anonymity will be a matter for a future court to consider," Ch Insp Harrison said.
"Police want to assure all who engage with the investigation team that all matters will be treated in the strictest confidence and the support and welfare of witnesses are important considerations.
"It is our intention to conduct these inquiries as quickly as possible."