Thieves pose as police officers in Magilligan robbery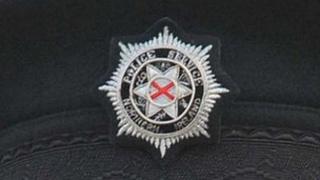 Two men, who posed as police officers, have stolen a sum of money from a man in Magilligan, County Londonderry.
It was reported to police around 19:30 GMT on Tuesday that two men dressed in police uniforms called to a house on the Seacoast Road saying they were investigating counterfeit money.
The two men asked him to hand over any notes he had.
Detectives have confirmed that the two men were not police officers.
A sum of money was handed over and the two men left in a small hatchback car.
Both men wore yellow coats with police written on the back, black boots, trousers and caps with a badge and police written on them.
They also wore yellow rubber gloves.
The first man was described as being around 35 years old, approx 5ft 7in tall, of thin build with a local accent and the second man as being in his 40s, approx 5ft 9in, of medium build and also with a local accent.
Police in Limavady have reminded householders not to allow anyone inside their home without being completely sure of who they are.
A police spokesperson said: "Householders should always check the ID of any unknown caller irrespective of who they claim to represent and if in doubt, do not let them in.
"Anyone who noticed any suspicious activity in the Seacoast Road area or who has any information which may be of assistance to the investigation should contact us."