Derry City Council: Rate increase of 2.58%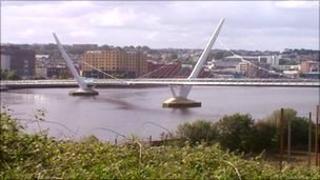 Derry City Council has agreed a 2.58% increase in the annual district rate.
The rate will work out at 40p per week more for ratepayers when the the regional rate increase of 2.7% is added.
Councillors agreed the rate at a special meeting on Wednesday despite opposition from unionists.
UUP councillor Mary Hamilton said: "people in Londonderry are struggling enough.
"Council should be thinking about the rate payers more. When the councils merge together I would like to think we will work better together on this."
SDLP councillor Gerard Diver said: "every penny being spent by council needs to be justified.
"This is an increase that can't be taken lightly. If we are serious about taking this city forward, the council has to have a range of initiatives that are going to bring about regeneration."