Londonderry man's cheekbone broken by car hijackers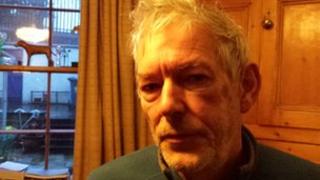 A 63-year-old man has suffered a broken cheekbone after he was punched in the face by car thieves in Derry.
Tom Agnew said he was forced out of his car and beaten by two men at De Burgh Terrace at 10:00 GMT on Sunday.
He had just got into his car when he realised that someone was at the window.
"Before I got a chance to turn the key in the ignition, I was aware of one person at my passenger side," he said.
"I had a second person at the driver's door.
"I got out of the car and he took a couple of paces back. I said, "What's goin' on lads?" and, with that, he launched his clenched fist in my face.
"Almost immediately my nose was bleeding heavily. I staggered backwards, I knew I had taken one hell of a blow."
Mr Agnew said he made his way to a friend's house and got help.
In hospital, he was told that the bone just below his eye orbit had been fractured and displaced.
His car was involved in a crash at Groarty Road, Derry, a short time later and had been burned out.
Two men in their 20s are being questioned by police about the car theft.
It is the second hijacking in the city in less than a week.