Doire Colmcille GAA club receives £417,000 funding boost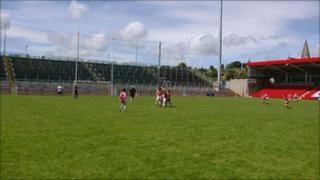 A Gaelic Athletic Association (GAA) club in Londonderry is to receive £417,000 in government funding.
The money will be used to provide a sports changing and meeting space complex at Lowry's Park in the Glen area for Doire Colmcille Club.
Social Development Minister Nelson McCausland said the funding underlined his commitment to the area.
"This complex will for the first time, give residents of all ages their own sporting facility," he said.
"It will open up opportunities for them to engage with local, county, regional and national clubs.
"It will give the local community the opportunity to become actively involved in programmes such as culture awareness, dance and the delivery of health and well-being programmes including drugs, alcohol and gambling awareness sessions and also promote social and community development opportunities for all residents of all age groups."
Mark Higgins, chairperson of Doire Colmcille CLG said: "We are delighted with this announcement of funding which will allow the residents, young and elderly, to enjoy the opportunities the multipurpose sports changing and community meeting space complex will bring.
"This facility is much needed and will meet the needs of many residents living in the Outer West Neighbourhood Renewal area."
The area is one of the top 10% most deprived areas in Northern Ireland.