Derry girl Rachael O'Connor knocked out of The Voice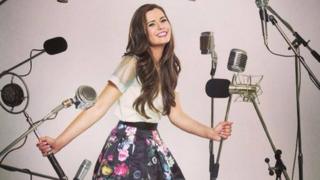 Londonderry teenager Rachael O'Connor has been knocked out of the singing competition The Voice, in which she was mentored by pop star Kylie Minogue.
Rachael, from Drumsurn near Limavady, sang Shine a Light, by McFly, on Saturday night.
The 16-year-old lost out in the chance to go through to the semi-final when it went to the public vote.
"Kylie is like a wee mummy to me," said Rachael.
"I'm devastated. I really didn't want to go home. I've been living the dream in London.
'The next Kylie'
"I'm going to take away confidence. Kylie taught me a lot and I'm very very grateful for that.
"I'm not sure what I could have done differently. I did hear a few flat notes but I had so much fun up there."
Sir Tom Jones told Rachael she had found her voice.
"To have Tom say that is amazing. I'm always going to have the drive to be as big as Kylie. I want to be the next Kylie.
"My family has really supported me and I just hope now someone takes an interest in me so i can be a pop star."
Rachael was the only female in Kylie's final three.
Team Kylie now consists of Jamie Johnson, 19, from Gillingham and Lee Glasson, 31, from Coventry.