Gasification plant: Derry waste company wants money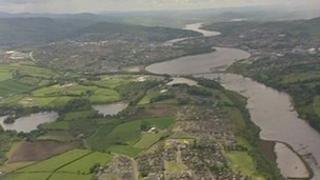 The Londonderry waste company behind a shelved £500m gasification plant has said it wants its money back if it does not go ahead.
The plant would have processed waste, turning it into energy.
Brickkiln has said it has invested millions of pounds in the plans.
The North West Regional Waste Management Group (NWRWMG) said plans were withdrawn because of concerns about the delivery of the plant, which was to be based in Strathfoyle.
It would have processed 200 tonnes of waste on a daily basis and would have been one of the most expensive building projects planned in Northern Ireland.
Public money
The waste would have been drawn from seven north west councils - Derry, Limavady, Coleraine, Strabane, Ballymoney, Magherafelt and Moyle.
In a letter obtained by BBC Radio Foyle, Brickkiln said it believed the development could still be salvaged.
The letter was sent to the chief executives of the seven councils setting out in detail why Brickkiln believed the project was shelved.
The letter said the blame for the project "crashing" lay with the contracting authorities, the North West Regional Waste Management Group.
It accused the council run group of failing to engage in dialogue to resolve issues around the deliverability of the project.
Brickkiln said in the letter that these issues delayed the process and that "they could have been resolved".
It also said it provided all the information requested by the waste management group.
The company has been working on it for 10 years and its plans were at an advanced stage with planning approval already granted for the gasification plant at Maydown.
'Very disappointing'
The BBC understands from the letter that Brickkiln will be seeking to get reimbursed for the money it has spent so far if the project does not go ahead.
The letter also says that those in the consortium may also seek compensation, which could run into millions.
Three million pounds of public money has already been spent, which will not be recovered.
A spokesperson for the NWRWMG said: "Our joint committee has recommended to its constituent councils not to continue with the procurement of the North West Region Waste Infrastructure Project for the treatment of residual (black bin) waste.
"The next stage of the process is for individual councils to consider the recommendation.
"The joint committee was very disappointed that it had to make this recommendation, but it was due to the degree of uncertainty surrounding the project and question marks over the potential for successful delivery of the project in accordance with the appointment business case and the original final tender submission.
"This placed councils in a position where it would be difficult to plan adequately to meet future waste management obligations."