Eoin McGrory: Derry man's body to be brought home from Boston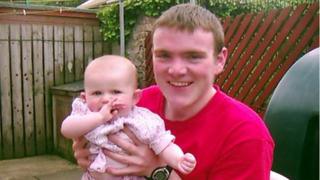 The family of a Londonderry man, who was killed in a hit-and-run in the US, are to fly out to bring his body home on Tuesday morning.
Eoin McGrory, 34, was cycling in Boston on Thursday when he was struck by a refuse collection truck.
Mr McGrory died at the scene. A 41-year old man has appeared in court charged in connection with the incident.
Eoin had lived in Boston for 15 years and was married shortly before Christmas.
'Terrible shock'
His mother Teresa and his brother Phil told BBC Radio Foyle that local people had been providing "amazing support".
Teresa McGrory said: "We got the news from Boston early on Saturday morning. It was a terrible shock altogether. We didn't expect anything like that at all.
"The last time he was home was around seven years ago. I was thinking of going out there this year. He loved the bike and was always out cycling.
"He just died at the scene. It's just awful.
"We want him home in Derry. Everyone has been coming to us with tributes, money and food to help us. I want to thank everyone for their support."
Eoin's brother Phil said: "He was bubbly and funny. He's my wee brother. There's only 13 months between us.
"He just got married before Christmas. He was happy and content."