Limavady education forum staff in job threat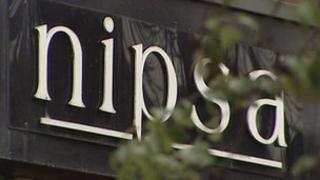 Over 20 jobs are at risk at the Roe Valley Education Forum (RVEF) in Limavady, according to the public sector union NIPSA.
Around five members of staff working in the community services offices have already been advised that they are likely to be made redundant.
RVEF is a non-profit forum that provides skills and training for people in the Limavady Borough Council area.
NISPA has asked to meet RVEF to discuss the redundancy threat.
RVEF has said that it is "moving into a possible redundancy situation".
NIPSA's Alan Law said: "This has come as a complete shock to the staff.
'Regret'
"We are demanding that management withdraw the threat of redundancy and embark on meaningful negotiations to resolve this matter.
"There are people that have worked here for some years. One person worked here for over 16 years.
"We are calling for full transparency and release of all information relating to the possible redundancies.
"There is a real need to have this forum to help and advise people find work.
"We do not accept that the case has been made to make anyone redundant and are demanding that this threat is withdrawn immediately."
General manager of the Roe Valley Community Education Forum, Diane Rathfield, said: "Roe Valley Community Education Forum has regretfully completed the redundancy consultation process with the community services department and its staff.
"The manager and executive committee regret the situation, which is beyond their control."