City of Derry Airport: Chairman confirms jobs are to go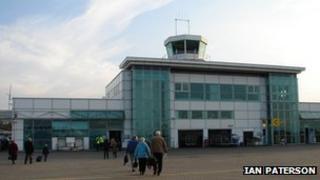 The chairman of City of Derry Airport (CODA) has confirmed that jobs are to go as part of a major cost-cutting drive.
Roy Devine said five senior posts had already gone, but four other workers could be made redundant.
Mr Devine blamed falling passenger numbers.
A spokesperson for CODA confirmed the airport was currently progressing with a "new structure".
Mr Devine told BBC Radio Foyle that they were keen to work together with staff.
"As part of this programme, we have identified nine posts that are surplus to requirements at present," he said.
"Five of those posts have been vacated through natural wastage, so as we sit at the moment there are four posts at risk.
'Gloomy'
"A number of years ago we expected some growth in the business going forward and put in place a management structure that would accommodate that.
"Unfortunately, due to reductions in staff numbers, we have to look at the structure again and make some cuts.
"We are looking for voluntary redundancies. We hope that this may yield a result, but if it doesn't we will have to consider the redundancy rate."
Alan Law, a union representative from NIPSA, said it was a devastating blow for everyone who worked at the airport.
"The job losses equate to 10 percent of the work force. The mood is very gloomy at the moment," he said.
"We are going to meet with management later in the week."
A spokesperson for CODA said a number of posts had already been reduced by not replacing staff that had left in recent months, but more reductions were still needed in managerial posts.
They said every effort would be made to avoid compulsory redundancies.