City of Derry Airport: Unions to ballot for action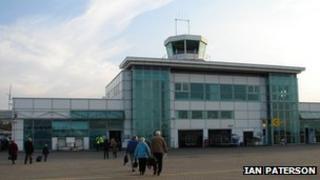 Trade unions have said they are to ballot for industrial action if management at City of Derry Airport (CODA) go ahead with cost-cutting measures.
The chairman of CODA confirmed in April that jobs are to go as part of a major cost-cutting drive.
Roy Devine said five senior posts had already gone, but four other workers could be made redundant.
NIPSA and Unite branches have voted to start balloting for industrial action.
Union representatives have asked CODA management to halt proposals for restructuring at the airport.
'Concerned'
Alan Law, from NIPSA, said: "Representatives of both NIPSA and Unite attended a joint meeting of members which unanimously backed a call for a ballot for industrial action.
"The action will oppose recently announced redundancies at the airport, the failure of management to consult trade unions on the proposals and what we feel is the ongoing managed decline of the airport.
"Our members are concerned that the City of Derry Airport will continue their existing management contract with RCAM (Regional & City Airports Management) Ltd.
"Ratepayers currently pay the management company £360,000 every year, but in the last four years of the contract, there has been no increase in flight numbers or volumes to sustain the airport.
"We are particularly concerned that the plans for restructuring will oust the current local airport director from the management board and leave the airport completely reliant on RCAM Ltd, who will become increasingly indispensable."
'Safeguard'
Gareth Scott from Unite said: "The ballot for industrial action will begin a wider campaign to save City of Derry Airport, which we believe is being subjected to managed decline.
"RCAM Ltd has entirely failed to deliver the needed growth in airport user volumes to safeguard its long-term sustainability.
"Our members believe that if RCAM Ltd remains in charge, this will inevitably result in the closure of the airport.
"Our aim is to force Derry City Council to take action and save our airport by getting the appropriate structures in place to grow the business."