Jury discharged in Eddie Kerr trial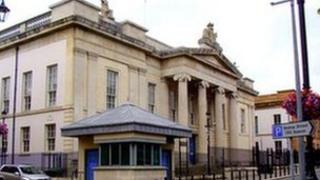 The jury in the trial of former director of the Londonderry charity organisation SEEDS has been discharged by the judge.
Eddie Kerr, 60, from Ashfield Terrace in Derry, faces 15 charges of fraud, forgery and of falsifying another man's signature.
Mr Kerr denies committing the offences between February 2009 and March 2011.
He was released on continuing bail until the case is mentioned again on 25 June.
The defendant had been on trial charged with 15 offences of forgery, fraud and signing another's man signature in relation to applications for funding from the OFMDFM, from the North West Peace III Cluster and from Derry City Council.
'Issues'
On the sixth day of the trial, the judge, announced to the jurors that she had no option but to discharge them.
In court on Tuesday, following the completion of the prosecution case on Monday, a defence barrister said he hoped to call a chartered accountant as a witness to give evidence in relation to discrepancies between two financial ledgers that have been highlighted to the jury during the trial.
However, a prosecution barrister objected to this application, on the basis that the chartered accountant was an expert witness and his report had not been given to the prosecution.
The judge ruled that the charted accountant should be permitted to give evidence, but not until the prosecution had the opportunity to study his report.
She told the jurors that much had transpired during the course of the evidence already heard and that a number of issues had arisen about differences between the contents of these two financial ledgers.
She said as a result of those discrepancies the defence wished to call the accountant to give evidence.
However, the prosecution needed time to properly address the material to be presented by the accountant.
"Therefore it is with much regret - that I have to discharge you as jurors," she said.
The judge added: "For five days you have sat as jurors and we are now in this situation.
"It is not the fault of the defence nor of the prosecution counsel in this trial but the issues must be resolved.
"I am terribly, terribly sorry about this, ladies and gentlemen," she said.
After the jury was discharged Mr Kerr was released on continuing bail until the case is mentioned again on 25 June when it is hoped to fix a date for a new trial in September or October.