Magilligan coastal concerns ahead of Derry clipper race homecoming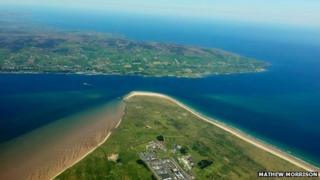 Limavady Borough Council has said that, due to erosion, it needs to make the Magilligan coast more safe before the Clipper Around the World Race arrives in Londonderry.
Wooden steps have collapsed and rock armour has shifted due to winter weather conditions.
Clipper celebrations will be held along the coast in Magilligan on 29 June.
Some farmers in Magilligan said they have lost up to 300 acres of land in the past 30 years.
Derry is the penultimate stopover on the world's longest ocean race, which left London in September.
A week-long maritime festival, with a race village, summer promenade and sea-faring activities will begin on 21 June.
'Vital'
Some of the yachts were expected to arrive in Derry from Saturday, but due to weather conditions, will now start to arrive on Monday 23 June.
The yachts will leave Derry from the Magilligan to Greencastle area on Sunday 29 June.
Magilligan strand will be a vantage point for the Red Arrows Aerial Display as well as Greencastle in County Donegal.
Director of development at Limavady Borough Council, Valerie Richmond, said time is running out to repair the damage.
"The erosion at Magilligan Point caused by tidal surge and sea conditions over the winter months has continued to have an impact on the site," said Ms Richmond.
"The steps have had to be removed as they were unstable due to the movement of material on the beach.
"Visitors wishing to access the beach are being directed through the paths leading to Martello Tower.
"Magilligan Point continues to be popular with visitors all year round. It is vital that pedestrian access to the beach is reinstated.
"This is further required given the clipper race will be taking place on the 29 June at the mouth of Lough Foyle.
"In addition some of the rock armour will also have to be reinstated to offer protection in the short-term.
"Development directorate staff have discussed this matter with colleagues in environmental services who are now preparing a specification for the necessary works.
"This work will be undertaken in consultation with one of the landowners whose property was impacted on by the tidal surge.
"This is a short-term solution and it would be prudent for council to consider some longer-term actions for the site and identify relevant funding opportunities to resource any such actions."