Man jailed for attacking members of family with machete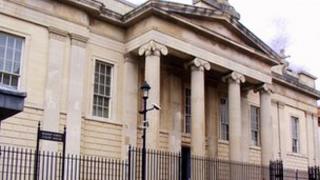 A 25-year-old man who attacked his then girlfriend and his brother with a machete has been jailed for 18 months at Londonderry Crown Court.
Stephen Patrick O'Kane, from Rinmore Drive in Creggan, admitted stabbing his brother Mark in the left shoulder.
He turned the machete on his then girlfriend Myka Walker and as she tried to defend herself she sustained a cut to her left thumb.
O'Kane will serve 18 months in jail and 24 months on licence in the community.
The attacks took place in O'Kane's mother's house in Fanad Drive in Creggan in 2012 when a group of family members went to the house following a party the previous day.
'Horrific weapon'
O'Kane fell asleep on the sofa and when he woke up he suddenly attacked his brother Mark with the machete.
Mark tried to defend himself with a baseball bat.
He refused to make a statement about the incident.
Mark had to have six staples inserted into the wound on his left shoulder when he was treated for the injury at Altnagelvin Hospital in Derry.
Myka Walker had six stitches inserted into her left thumb and continues to receive therapeutic treatment as a result of the injury.
Judge Philip Babington said he had been shown photographs of the weapon O'Kane used to afflict the injuries on his brother and his then girlfriend.
"It is truly a horrific weapon. It is a very long knife, not something one would find in a domestic kitchen, perhaps in a commercial kitchen or an abattoir," he said.
'Ballistic'
Judge Babington said that O'Kane had told a probation officer during the preparation of a pre-sentence report that he consumed large amounts of alcohol and methedrone on the night in question.
The court heard that O'Kane had been assessed as being at a high likelihood of re-offending.
Judge Babington said the weapon was undoubtedly a lethal weapon which O'Kane had used to attack his two victims.
"This was a horrific incident in which anyone in the house could have been seriously injured or even killed. The defendant was totally out of his mind on drink and drugs and went ballistic," he said.
Judge Babington said a very experienced probation officer had stated it was crucial that O'Kane should be given time to engage in an addiction programme to address his alcohol and drugs abuse.
He said for that reason and because of the state O'Kane was in when he committed the offences, he was not imposing the normal 50-50 policy in terms of how long O'Kane would spend in jail.
Instead he said O'Kane would serve 18 months in jail and 24 months on license in the community.
Judge Babington then told O'Kane if he had been convicted of the offences following a jury trial he would have been jailed for four and a half years.