Sarah Brett to leave Radio Foyle and join 5 live radio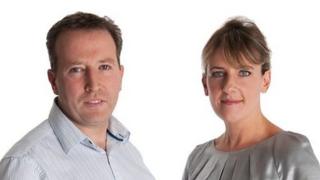 BBC Radio Foyle presenter Sarah Brett is to join Radio Five Live.
She will co-present a new show, Afternoon Edition, with BBC Sport presenter Dan Walker.
It will air on the station from 13:00 to 16:00 on Monday to Thursday and will feature a range of expert voices, stories from all over the UK and in-depth interviews with big name guests.
Radio 5 live also announced that from October, Stephen Nolan will run from 20:00 until midnight on Saturdays.
Sarah Brett, who has been a regular presenter on BBC Radio Foyle's breakfast show, said: "To say I'm excited doesn't really cover it.
"Joining 5 live to co-present a brand new programme is a huge deal. And I'm very proud to be coming from a fantastic regional station, BBC Radio Foyle. The chance to help create something completely fresh for listeners on 5 live is a dream job and I can't wait to get started."
The Donegal-born presenter also hosted her own early morning talk show on Radio Foyle and co-presented Pure Culture with Michael Bradley during Londonderry's year as city of culture in 2013.
It has been a busy month for the presenter, as well as being confirmed in her new role at Radio 5 live, she recently gave birth to her first child.
Last year, she was named news broadcaster of the year at the Irish PPI (Phonographic Performance Ireland) radio awards.
Her co-presenter on BBC Radio Foyle's breakfast show, Enda McClafferty, paid tribute to her professionalism and dedication.
"It comes as no surprise to us that Sarah has been snapped up by 5 live as she is a first class broadcaster, who comes alive behind the microphone," he said.
"I have never known anyone to have so much energy at half five in the morning and it was a real pleasure working along side her on our breakfast programme.
"I know she will be sorely missed at Radio Foyle, but it's a great opportunity which I know Sarah will relish.
"I know she won't miss the five o'clock wake-up call."