Riverine Project in Strabane given planning permission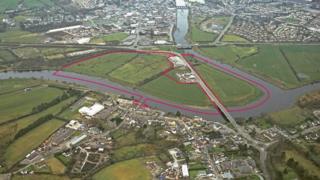 Planning permission has been granted for a major multi-purpose development to be built in Strabane, County Tyrone.
The Three Rivers Project will include a 90-bed hotel, an employment and learning campus, a retail foodstore, a sports centre and tourism facilities.
Because of its scale, the decision to grant approval had to be made by Environment Minister Mark H Durkan.
Mr Durkan said the development had the potential to provide significant employment opportunities.
'Deprived'
"I have considered this application carefully as I am aware of the fundamental planning and policy issues concerning this development," he said.
"However, I also recognise the potential benefits of the project.
"I am aware that Strabane is one of the most deprived areas of Northern Ireland with 44% of the population of Strabane District Council area living in deprived areas."
The Department of Environment said it received five letters of objection, one letter of support and one petition of support in relation to the application.
'Grave concerns'
The development had been opposed by the NI Independent Retail Consortium and the Strabane Chamber of Commerce, who were concerned the retail element of the scheme would damage existing town centre businesses.
The Chamber of Commerce said that while it welcomed "much-needed investment in the town", it had "grave concerns" about the supermarket element which it said could have a "devastating effect".
Declan Hughes, a Strabane retailer from NIIRTA (Northern Ireland Independent Retail Trade Association), said that the decision was "utterly disgraceful" and that the minister was "ignoring his own party policy and departmental policy".
Asda, which operates the only large supermarket in Strabane, also objected to the development.
The development has cross-party political support, with the area's Sinn Féin MP, Pat Doherty, telling planners it was a "massive investment opportunity".
Mr Durkan said he had considered the views of a "broad spectrum of interested parties".
"I acknowledge that overall there is strong local support for the project and the need for new investment, job creation and the potential for this development to act as a catalyst for further inward investment," said the SDLP assembly member.
"I am also aware of the concerns of some local town centre traders.
"However, I believe that any potential negative impact associated within this development will be offset in the long term by growth in the local economy, the creation of jobs and greater wealth, inward investment and visitor spend."
'Unique opportunity'
The project will be sited over a large area of land:
North of and including River Mourne
East of and including the River Foyle
West of the Lifford Road roundabout and Barnhill Road (A5) and including Lifford Road, from Lifford Bridge to Lifford Road roundabout
It will also include a garden centre, a filling station a river wildlife centre, and a children's play area.
"I believe this is a unique opportunity for Strabane, there is no other comparable proposal and an investment opportunity of this kind is unlikely to come forward in the foreseeable future," said Mr Durkan.
"The Riverine Project will strengthen cross-border linkages and build on the relationship which exists between two border towns.
"I see this project as an opportunity to develop a regionally significant visitor destination at this gateway location and to redefine the relationship between Lifford and Strabane."