MTV Crashes concert confirmed for Londonderry in September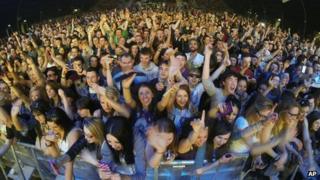 A concert organised by MTV will be held in Londonderry in September, it has been confirmed.
MTV Crashes will take place in Ebrington Square between 19 to 21 September, with 10,000 people expected to attend.
A number of other events will be held across the city during the weekend.
Tickets for the concert will be made available on 9 August. It has yet to be confirmed who will perform at the event.
The concert will be broadcast across MTV's UK music channels and subsequently on its European music channels in October.
Previous MTV Crashes concerts have taken place in Belfast, Manchester and Glasgow.
On 15 July, Plymouth hosted the MTV Crashes series, which featured performances from Kaiser Chiefs, Example and The 1975.
Rumours about the event first surfaced in early June, when it was reported that Derry City Council had made a "significant investment" to bring the event to the city.
Last year, the city hosted the Radio 1 Big Weekend.
Acts like Calvin Harris, Biffy Clyro, Bruno Mars and Rita Ora performed as part of Derry's year as the UK City of Culture.
'Huge coup'
Kerry Taylor, senior vice-president and general manager of MTV UK, said: "With one Crashes event already under our belt, we are delighted to be announcing details of our second.
"Londonderry is a fantastic city - steeped in history and named as 2013's City of Culture, so we can't wait to crash it."
Mayor Brenda Stevenson said the event was a "huge coup" for the city and that the event would be "one of the music parties of the year".
"It promises to be a fantastic opportunity for us to showcase our city to a national and international audience.
"With a full weekend of activity, there will be music to suit all age groups."
Philip Flynn, chairman of Derry's urban regeneration company Ilex, said: "We are delighted to work with MTV, Derry City Council and the Northern Ireland Tourist Board to bring yet another high profile event to the city, building on the success of Ebrington Square."
The concert will not be the first time MTV has staged events in Northern Ireland.
In 2010, Mark Ronson performed a free concert in Belfast as part of what would become the MTV Crashes series.
The MTV European Music Awards were held in Belfast in 2011 and attracted acts like Lady Gaga and Beyonce.
They also staged a follow-up concert in the Titanic Slipways that was headlined by Olly Murs.