Robert Fisher admits assaulting ex-councillor Jimmy Carr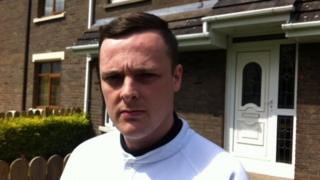 A man has pleaded guilty to assaulting former Derry City councillor Jimmy Carr.
Robert Fisher, 29, from Ivy Mead Mews in the city, appeared at Londonderry Magistrates' Court on Monday.
He admitted a charge of assaulting Mr Carr on 6 May this year but denied making a threat to kill.
The assault occurred when Mr Carr was canvassing for the SDLP in the Carnhill area of Derry during the recent local government elections.
Mr Carr subsequently resigned from Derry City Council and the SDLP.
The case against Fisher was adjourned until 11 August.