Derry residents "against Nazareth House alcohol unit"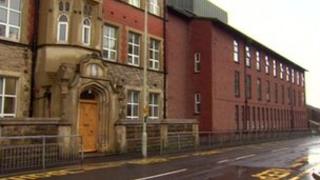 Residents at Bishop Street in Londonderry have signed a petition against plans for an alcoholic unit at the former Nazareth House care home.
The development would include family housing as well as a 24-bed unit for people with alcohol dependency.
Oaklee Trinity Ltd said it is committed to consulting with the community before pressing ahead with the plans.
A public meeting will be held on Tuesday night.
Some residents are concerned at the site's proximity to two schools, Nazareth House primary and Lumen Christi College.
Long time Bishop Street resident Margaret Mullen said she is worried about anti-social behaviour.
"I know they need a place for them to go, but this is a built-up area with an elderly population," she said.
"The majority of residents in this area are totally against what they're intending to do with the site."
However, another resident, Anne McVeigh, said she supported the plans.
"I think we need the Nazareth House to help people off alcohol and off drugs. It's a big building and it's going to waste," she said.
The unit would be managed by DePaul Ireland, an organisation that works with the homeless.
In a statement Oaklee Trinity Ltd said it was nominated by the housing executive to provide accommodation for adults with a history of homelessness and alcohol misuse.
"Other sites were considered at various locations across the city but were ruled out for a range of reasons such as not large enough, not close enough to amenities or the city centre, unavailable or sold," it said.
"This is why the Nazareth House site was agreed as providing the most favourable option."