Londonderry alcoholic unit: Neighbours voice concerns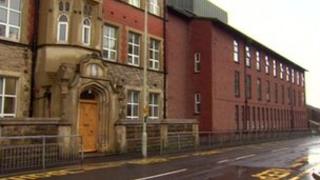 About 150 people have attended a public meeting to discuss controversial plans to accommodation for alcoholics at a former care home in Londonderry.
The Oaklee Trinity Housing Association wants to build at the site of the former Nazareth House care home in Bishop Street.
The meeting was heated at times as the plans were outlined by an association spokesman.
Many residents voiced concerns about an upsurge in anti-social behaviour.
The unit would be managed by DePaul Ireland, an organisation that works with the homeless.
Foyle MP Mark Durkan, who attended the meeting at Bishop Street Community Hall, said: "It's very clear that the community here is very anxious and very concerned and understandably so.
"I think they voiced well-marshalled fears around this particular proposal in respect of the alcohol dependency unit.
'Bit much'
"Nobody is saying we don't need a facility like that in the city, but people are saying really that, on top of some existing services that are already concentrated in and around this area, it is a bit much for this community to absorb."
A spokesman for Oakley Homes said it was not possible to please everyone but they had tried their best.
Paul O'Hea, principal of Nazareth House Primary School, said: "We are as a school would share the concerns they have, not with the actual development of the site or the unit when the residents are in-house.
"It's the comings and goings on the street that we would have worries about."
In a statement on Wednesday, a spokeswoman for Oaklee Trinity said she understood the community's concerns.
Audrey Burrows said the behaviour of people living the homes would be monitored.
"There is no 100% guarantee for any client group that moves into any area," she said.
"The support systems and also the monitoring systems and the selection systems that we have in place for people to be in the services are of a very high standard.
"Any issues that come to us will be addressed promptly."