Former Irish soldier jailed for biting man's nose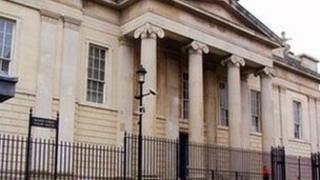 A former Irish army soldier who bit off part of man's nose in an unprovoked attack in Derry has been given a four and a half year prison sentence.
Barry Fitzgerald, 25, from Carrigans, County Donegal, will serve half of the sentence in prison and half on licence.
Fitzgerald admitted assaulting 34-year-old Ali Halimi outside a fast food takeaway on 14 April 2013.
Mr Halimi had to have emergency plastic surgery in a bid to reattach the severed part of his nose.
The judge said it was a grotesque and barbaric attack
"If you had walked away, this simply would not have happened." said the judge.
Mr Halimi was sitting in the passenger seat of a car parked outside the takeaway at Waterloo Street when the assault happened.
A prosecution barrister told the court that Fitzgerald and his cousin became involved in a argument with the owner of the takeaway who was sitting in the driver's seat of the car beside the victim.
The court was also told that Mr Halimi continues to suffer psychologically as a result of the attack.
'Conceal'
A prosecution barrister said it was an unprovoked and sustained assault during which Fitzgerald used his teeth as a weapon. He bit off part of Mr Halimi's nose and also bit him on the back.
The judge pointed out that Fitzgerald had tried to conceal his involvement by washing his clothes after the attack. The judge said he accepted it was a momentary one-off act that was contrary to Fitzgerald's general character.
Fitzgerald, who resigned from the Irish army after seven years service, smiled and gave the thumbs up to members of his family after being jailed.