Car set on fire in Shantallow area of Londonderry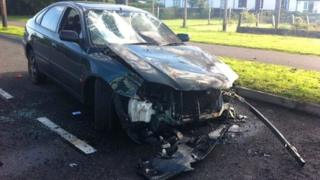 A car has been set on fire in the Shantallow area of Derry.
It happened on the Racecourse Road shortly before midnight on Monday. Another car was burned out in the same area during trouble at the weekend.
Following Saturday's trouble, SDLP councillor Brian Tierney said he had been contacted by residents concerned by ongoing anti-social behaviour.
"On Saturday night, up to 50 youths had gathered and set a car alight and put it in the middle of the road," he said.
"I was there, along with police, fire crews and community representatives.
"We tried to calm the situation, and to some degree we did, however, when we pressed the young people about their actions, they could not give us an answer as to why they felt the need to cause such a blatant obstruction to many residents and motorists."