Police operations targeting dissidents says Ch Insp Tony Callaghan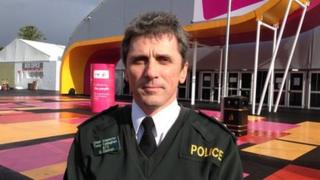 The new police chief in Foyle has said that operations are in place to take dissident republicans off the streets.
Ch Insp Tony Callaghan said people who used violence to achieve change were "from the past".
"Our job is to detect the crime they're involved with, to collate the evidence, bring it before the courts and bring them to justice," he said.
"The threat in Northern Ireland is severe and that is mainly directed against police officers.
"This city [Londonderry] is no different to the rest of Northern Ireland.
"It is certainly something that gives me concern and we have operations in place to deter, detect and take whatever action we can to take those people off the streets."
Ch Insp Callaghan has succeeded John Burrows as police commander in Foyle.
He said he wanted to deliver "a really excellent service to the people of this city".
"It's dealing with those challenging issues as well," he said.
"It is around - the threat that exists in this city, it is the drugs, the anti-social behaviour and the crime and I will focus on those themes. I'll be held to account by how we perform against those areas."