Invest NI: Derry job investment 'unacceptable'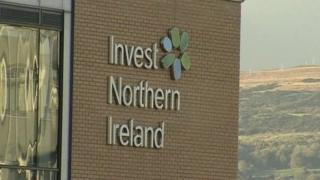 A Foyle MLA has described the level of job investment in Londonderry as 'unacceptable'.
Colum Eastwood said the Department of Enterprise's figures showed that Derry received less than 3% of the financial assistance offered by Invest NI.
He also criticised the quality of jobs created, saying that just 1.4% paid above £26,000.
However Derry did get 40% of all the new jobs created by companies coming to NI for the first time.
Mr Eastwood received the information on job investment for 2013-2014 in a letter from Enterprise Minister Arlene Foster sent on 15 August.
The Foyle constituency also got the third highest number of jobs promoted by firms during that financial year.
"Stark"
"It seems that Derry, which along with Belfast was identified in the executive's economic Strategy as key driver for economic growth, is not being promoted with the same vigour as the constituencies of the greater Belfast area."
Mr Eastwood said he believed Enterprise Minister Arlene Foster and Invest NI needed to focus on promoting more jobs as well as better quality ones.
"The latest figures from the minister are stark evidence that not nearly enough is being done by Invest NI to promote job creation and in particular to attract high-end jobs to Derry."
The BBC have asked Invest NI for a response to Mr Eastwood's comments.
"Vital"
Mr Eastwood said Derry's share of inward investment projects was not nearly good enough.
"It is not acceptable that just over 1% of the jobs promoted in Foyle by Invest NI last year offer what would be considered a good salary," he said.
He said that compared with the Belfast constituencies where up to 95% of jobs promoted paid 25% above the average private sector wage.
"Derry's economic growth is vital to the prosperity of the entire north west region, yet incredibly the city seems to be getting no greater measure of support in terms of investment. This needs to change dramatically in order for Derry to achieve its potential."