DETI cuts: North west sporting and cultural events at risk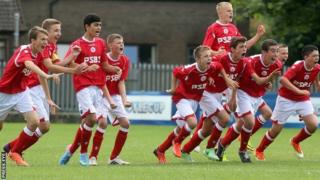 The future of more than a dozen of the biggest cultural and sporting events in the north west is in doubt because of funding cuts.
The Department of Enterprise, Trade and Investment (DETI) announced on Friday it was scrapping the Northern Ireland Tourist Board (NITB) events fund.
The department said the cuts were the result of a "very difficult financial" situation facing the executive.
Events at risk include Derry's jazz and Halloween festival and the Foyle Cup.
The city's Halloween festival is one of the biggest in Europe - involving tens of thousands of people.
It is losing £18,000 from its budget, with this year's event just weeks away.
Another blow
The Foyle Cup, an international youth football tournament, is also losing £15,000 of funding.
Organiser Michael Hutton said it was yet another blow for the cross-community event.
"What's most alarming really is the loss to the local economy, we're taking here about a football tournament, but we press so many buttons in terms of what we're creating - 12,500 bed nights, over 70,000 spectators," he said.
"I would reckon, maybe one and half, two million pounds goes into the local economy during the week of the Foyle Cup tournament.
"I mean you take our parade in the city every year, we have everybody marching together under the banner of sport and really I firmly believe that's the way forward for reconciliation in Northern Ireland."
Mr Hutton said organisers would "work hard" to make up the shortfall.
"You would hope that organisations like Sport NI would come on board now and give us some funding because really it's been very difficult getting funding from Sport NI," he said.
"At the moment, the funding aspect of it is most uncertain, but what I am certain is that we're a determined group and what we have created here in this city, we're proud of what we've achieved, we will continue to try and prosper for the city with the Foyle Cup tournament."
The Carnival of Colours is an annual event held in St Columbs Park.
It features international street theatre and local acts and is losing £30,000 in funding.
'Ludicrous decision'
Event organiser Cath McBride said, without it, the festival may not survive.
"To us it seems like a ludicrous decision, I mean we know that it's a driver for tourism, for employment, for good relations," she said.
"We've secured money across all those different kind of relevant targets and it has proven itself.
"It does what is says it is going to do. It's a great event and I think the city would really miss it if we can't run it this year."
Other events affected by the funding cuts include:
Maiden City Festival - loosing almost £9,000
Walled City Tattoo - losing £30,000
Portrush International Airshow - £21,000
The city's Maritime Festival, which received £250,000 of funding from the Tourist Board, has not been affected by the cuts so far - it had already secured funding for its next event.
Nine international events have been affected by the cuts: NW200, Feile, Queen's Festival, Ulster Grand Prix, NI Open Golf Challenge, Foyle Festival, Beckett Festival, Milk Cup, Circuit of Ireland.
The Tourist Board said it was honouring funding up to 2016/17 for these events as part of a three-year commitment but said it could not be opened to new applicants at present.