Teenagers in court over attempted Northland Stores robbery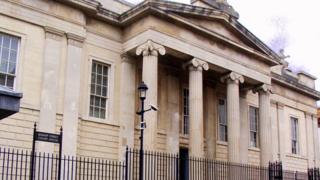 Two teenagers have appeared at Londonderry Magistrates Court charged with attempting to rob a shop in the city at the weekend.
Seosamh Deehan from Gweebara park, Foyle Springs and James Rush from the Glen Road are both 19-years-old.
Mr Deehan admitted all charges while Mr Rush denies any involvement in the incident.
The attempted robbery happened at Northland Stores in Rosemount on Friday.
'Knife'
Both defendants are jointly charged with attempting to rob the shopkeeper of cash, with possessing a knife with intent to commit a robbery and with conspiring to rob the store.
Police told the court that on Friday night Mr Deehan went into the shop armed with a knife, wearing a balaclava and demanding money.
It was then that a member of the public intervened and grappled with him and forced him to the ground where he restrained Mr Deehan until help arrived.
Mr Rush was arrested nearby after he had driven past the shop in a taxi, minutes after the attempted robbery.
The police officer said he believed both defendants were together prior to the incident and had conspired with one another to rob the shop.
'Drug debt'
He also said Mr Deehan had told police he had intended to rob the shop because he wanted to pay off a drug debt of £500 and claimed he was acting under duress.
The solicitor for Seosamh Deehan said he had self-harmed on Sunday while in custody at Strand Road police station and was taken to Altnagelvin Hospital where he was treated for multiple lacerations to his arms.
He said Mr Deehan's mother was so concerned about her son's well-being that she wanted him sectioned under the mental health order.
Both defendants were released on bail and the case was adjourned until next month.