Altnagelvin hospital radiotherapy unit to open as planned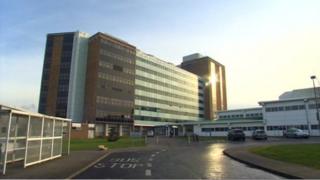 The health minister has confirmed that the radiotherapy unit at Altnagelvin hospital in Londonderry will open as planned in 2016.
It had been feared that the cancer unit would be delayed and that a 24-hour cardiac care lab would be scrapped.
Last month, the previous health minister, Edwin Poots, said both projects faced uncertainty because of cuts to the health budget.
The planned radiotherapy unit was previously put on hold in March 2011.
"Investment"
Addressing the assembly, Jim Wells said the news would be welcomed.
"Investment will be made in the Altnagelvin radiotherapy centre during 2014/2015 so that it can be opened as intended in 2016.
"The funds will also mean that the cath labs in Altnagelvin can continue to operate a vital 24/7 service as planned and that some further support can be provided to the voluntary and community sector and the family fund."
In August, it was revealed that the Department of Health was facing a £140m shortfall in funding, following the June monitoring round at Stormont, when departmental budgets were examined and re-allocated.
The Northern Ireland Executive agreed to cut Stormont departments' budgets by £78m, with the exception of health and education.
"Consequences"
Mr Wells also updated MLAs on his department's financial position for this year.
"The executive reached agreement on the October Monitoring round for 2014/15 and as part of that agreement, my department received an additional allocation of some £60m.
"This was on top of the conditional allocation of £20m from the June Monitoring round.
"Whilst this £80m is most welcome, there will still be consequences for the provision of health and social care services, as it will simply not be possible to maintain current levels of service provision in the absence of all the required levels of funding," he said.