Work begins on £3.7m Apprentice Boys centre in Londonderry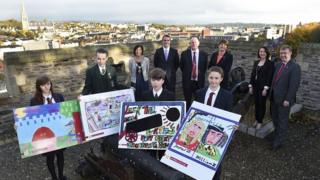 A new Apprentice Boys museum and visitor centre costing almost £4m is to be constructed in Londonderry.
The Siege Museum and Shared Space Visitors Centre is part of a £3.7m project that includes the renovation of the Apprentice Boys Memorial Hall and an eight-week archaeological dig.
It is being funded by the Apprentice Boys Association, the EU programmes body and several Stormont departments.
The work is expected to be completed by summer 2015.
The governor of the Apprentice Boys, Jim Brownlee, said it was "important" for the story of the siege to be told to a wider audience.
'Shared history'
"The story should be made open and available to all of the communities within (Derry)," he said.
"It's not just the story of the siege, it's the story of the Apprentice Boys Association and we also hope to touch on the Derry regiment in the battle of the Somme, and other aspects relating to our city."
Enterprise Minister Arlene Foster said the new centre would help everyone in the city to embrace its "shared history".
She said: "It is important that everyone feels part of the city, and feels part of the history and enjoys celebrating that history.
"We have invested quite a lot in this city to bring the history back to life, in a way that everyone feels comfortable with."