Walled City brewery to create 10 new jobs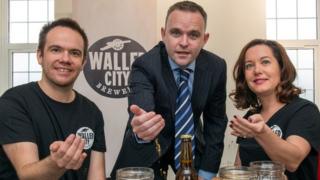 Ten jobs are to be created at a new brewery in Londonderry.
The Walled City brewery will brew and sell craft beers from new premises in Ebrington Square.
Ilex, an urban regeneration company in Derry, made the announcement on Thursday.
Ilex's business manager, Niall McGurk said: "This is a great opportunity for creative and economic growth."
"It will also be a new tourist attraction for the city and will ultimately support six full-time and four part-time jobs," said Mr McGurk.
"Interestingly, early Victorian maps show a brewery adjacent to Ebrington located at the bottom of Browning Drive.
"Visitors to the brewery will get a guided tour, see the brewing process at first hand, and have the opportunity to taste and purchase the products on site."
Manager of Walled City brewery, James Huey said: "This is perfectly aligned with Ilex's plan of developing Ebrington into a world-class cultural and innovation hub.
"The brewery will craft premium quality, flavoursome, innovative beers, and build on the thrilling craft beer revolution that is currently sweeping the UK and Ireland".