Coleraine arson: Attack on family attempted murder say police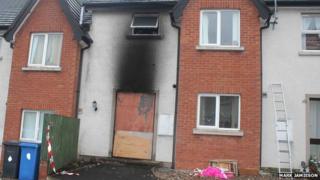 An arson attack on a family home in Coleraine, County Londonderry, is being treated as attempted murder, police have said.
The blaze broke out on Sunday at about 21:45 GMT at a property in Rinvarna Court, near Millburn Road.
An eight-year-old boy and a man in his 40s, had to be rescued from the house suffering from smoke inhalation.
A woman in her 30s and a four-year-old boy managed to make their way outside by the time fire crews arrived.
All four of them were brought to hospital.
'Unbelievable'
The front door of the house was also damaged.
Det Insp Catherine Magee said: "This is a very serious incident and we are extremely lucky we are not investigating the death of a young family.
"We are at the early stages of this investigation and I would appeal to anyone who may have noticed any suspicious activity in the area or who has information to contact detectives in Coleraine."
DUP councillor Mark Fielding was travelling home from Castlerock when he saw the fire, and described it as "pretty horrific".
"No reason can justify this action and those who did this should be caught," he said.
"The level of smoke was unbelievable, and when you see so many emergency vehicles and personnel there, that tells you the extent of this attack."
Alliance councillor Yvonne Boyle said her "thoughts were with the family".
She said: "Everyone has the right to feel safe in their own home. Those behind this attack should not be allowed to bring fear into the community and need to be apprehended."