Derry City Council: Meeting over 'IRA' death threats to wardens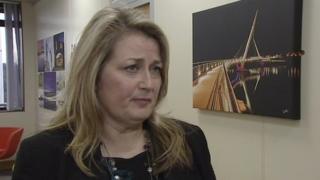 Derry City Council is holding a meeting over death threats against community safety wardens, believed to have been made by dissident republicans.
The wardens deal with low-level anti-social behaviour and have been threatened twice this week, first on Tuesday and again on Thursday.
The latest threat came in statement to the Derry Journal newspaper, from a group calling itself "the IRA".
The council said the wardens will not return to work until it is lifted.
'Industrial action'
A spokeswoman for the Police Service of Northern Ireland (PSNI) said officers were aware of the threats.
Derry City Council's chief executive, Sharon O'Connor, is meeting the wardens' union representatives on Friday.
Ms O'Connor said she believed the 'IRA' statement was an escalation in the threat and said her staff were growing increasingly concerned for their safety.
Alan Law from the Northern Ireland Public Service Alliance (NIPSA) trade union told BBC Radio Foyle there may be industrial action if the threats are not lifted.
The 11 community safety wardens were taken off duty when the first threat was issued four days ago.
At a meeting of Derry City Council on Thursday, the mayor and other councillors reiterated their calls for the threat to be lifted.
Also on Thursday, about 80 people attended a protest outside the Derry City Council offices, to show their opposition to the threat.
The protesters included council staff, politicians and trade union representatives.