Dungiven Sinn Féin councillor Tony McCaul 'angry' at arrest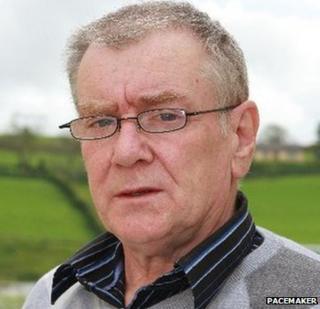 A Sinn Féin councillor has said he will take legal action after his arrest by police investigating paramilitary activity in County Londonderry.
Tony McCaul, 62, was one of four men released unconditionally by police on Thursday but another man is still being questioned.
Mr McCaul said he was very "angry" at what he called his wrongful arrest and false imprisonment.
The Police Service of Northern Ireland said it had a duty to follow all lines of enquiry.
'Unjustified'
Tony McCaul said the events of the last 24 hours had left his family distressed.
"The police came at 7 o'clock in the morning and disrupted my whole family, I think the arrest was totally unjustified.
"I'm a member of the Policing and Community Safety Partnership, they could have asked me to come down to the station and I would have been quite happy to do that.
"I had nothing to tell them. It was so poor, there was not one shred of evidence to suggest I knew about this," he said.
"Are we back to unaccountable policing here? I'm feeling pretty angry."
'Fear or Favour'
In response, Det Ch Insp Una Jennings said the investigation was conducted to the highest standard.
"This is a wide-ranging investigation encompassing numerous incidents, most of which took place over a four-year period dating back to January 2011.
"It has been conducted to the highest professional standards and is subject to all the checks and balances provided by accountability arrangements and the criminal justice system.
"Police have a duty, to victims and to the community, to follow all lines of enquiry without fear or favour.
"We are committed to treating everyone equally before the law. Four of the men arrested yesterday have been released unconditionally.
"One remains in custody assisting police with their enquiries," she said.
"If anyone has a complaint to make about the actions of police they should contact the Office of the Police Ombudsman."