Sound Of 2015: Londonderry artist SOAK makes longlist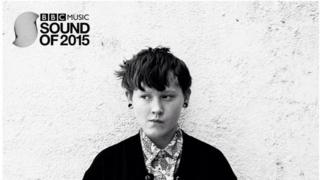 Londonderry songwriter SOAK has made the longlist for the BBC's Sound Of 2015.
SOAK, aka Bridie Monds-Watson, is 18 years old and is known for her songs Explosion and Sea Creatures.
The list, which was put together by a panel of DJs, critics and broadcasters, highlights 15 of the best and brightest new acts for the coming year.
Last year's victor was Sam Smith, and other previous winners include Adele and Haim.
The 2015 longlist is markedly more diverse than in recent years, as grime artists rub shoulders with experimental R&B singers and acoustic balladeers.
SOAK has been featuring on BBC Radio 1's playlist throughout the past year.
"I'm super excited," she told BBC Radio Foyle.
"My managers called me and I had to keep it a secret.
'Happy'
"It took me a week or so to learn how to deal with it and for my mum to calm down.
"A lot has changed. I'm very busy but I miss Derry.
"I signed a record deal and things just went up a notch.
"I never had a plan to get in this position at all. It's all such a surprise to me.
"My friends always joke about me being famous and it is strange being noticed on the streets.
"To be on the longlist is massive in itself. It would be incredible if I won, but that's not important at the minute. I'm just so happy to be on the list."