GAA referee Patrick Nelis speaks out about depression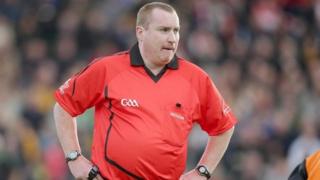 A Gaelic football referee has said he tried to kill himself after he was subjected to online abuse.
Patrick Nelis, from Clady near Strabane in County Tyrone, told BBC Radio Foyle that the abuse began when he put on weight after taking medication for depression.
He said he was criticised for his performance in the Meath county final in 2013.
He said he had been called a "fat red hamster" and was described as "poison".
Around 30 tweets were sent to him after the final in 2013 and then more messages privately on Facebook.
'Downward spiral'
"I think after that final, the buzz went away. It absolutely took stuff out of me when I read those tweets and Facebook messages," he said.
"I put on some weight due to medication and started to be known as the fifth referee. I went home that night after the final and I absolutely cried my eyes out and did so for days.
"I isolated myself, stayed in my room for two or three days at a time and wouldn't eat.
"I just had this plan in my head. I plunged into a deep well of depression and I was already fragile.
He said he was told he was "poison" and the language was "so abusive".
"My life was going in a downward spiral and I couldn't take anymore," he said.
"I didn't tell anyone about what was going on which was bad. An overdose was next in line for me. I was found lying on the bathroom floor.
"I was in hospital for a few days and was put in to a psychiatric ward for a period."
Mr Nelis also paid tribute to the role the GAA played in his recovery in the aftermath.